Arcserve Cloud Services

Cloud-Based Backup and Disaster Recovery Solutions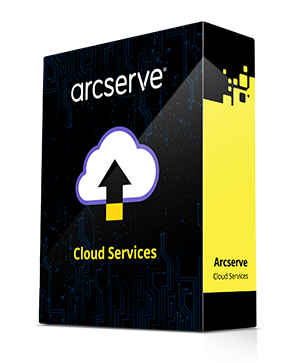 ---
Cloud Backup and Recovery Is Where Uptime Comes From
Local backups are usually enough to recover IT systems from server failure and other common problems. But a site-wide disaster will destroy those backups and result in major downtime and data loss for a business. Arcserve Cloud Services is a cloud-based disaster recovery as a service (DRaaS) solution.
When paired with Arcserve's backup and recovery solutions, Cloud Services (DRaaS) ensures complete and reliable business continuity. It is architected from the ground up to streamline data backup and recovery management, and to get critical systems back online with speed and ease. You can replicate backup images from OneXafe, ShadowXafe, OneXafe Solo, or ShadowProtect, to our Cloud Services (DRaaS), giving you the tools you need to keep business running no matter what happens.
Business Continuity
Access cloud data anywhere, anytime using this highly distributed and fault-tolerant disaster recovery cloud with 99.999+ percent uptime. Our premium-level cloud features the patented ability to pre-stage site-wide failover processes so you can test or execute a failover with the click of a single button.
Offsite Disaster Recovery
StorageCraft disaster recovery as a service (DRaaS) offers everything from file and folder recovery and machine virtualization to instant failover of an entire site and network.
Single Pane of Glass
Centrally manage through an easy-to-use, self-service online portal. Our privacy and security measures ensure that only you can access stored backup images. Additionally, complete control over networking allows for seamless failover during a disaster.
---
Google Cloud Platform
Arcserve recently enhanced our Cloud Services to take advantage of the power of Google Cloud, including its global scale, speed, elasticity, and data security. Our partnership with Google Cloud Platform (GCP) provides you with unmatched business continuity solutions for all data environments regardless of size, complexity, and location.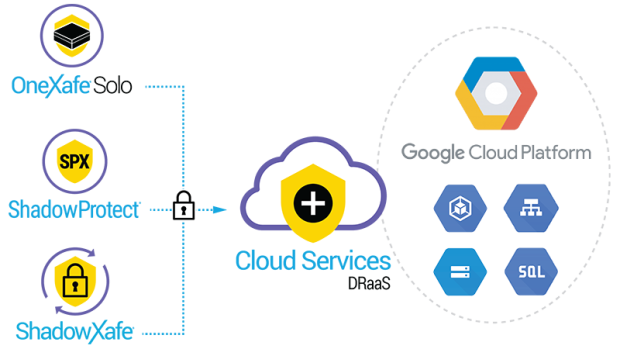 ---
Features and Benefits
Security and Availability
Know that your offsite data backup is safe and always available inside our distributed, scalable, fault-tolerant cloud built specifically for disaster recovery.
Customization
Customize cloud storage to fit your needs, whether your IT environment is small and straightforward or large and complex. Choose the Service Level based on your needs. Enjoy low costs, control over cloud settings, and predictable monthly pricing.
Control and Flexibility
Centrally manage and monitor all your Arcserve Cloud Services™ accounts as well as fail over in a disaster without third-party intervention.
Advanced Network-Recovery Options
Hit the ground running after a disaster with advanced networking features (available with Cloud Premium) that enable you to run your network in our cloud just as you'd run it onsite.
One-Click Failover
Use Virtual Machine Policy (available with Cloud Premium) to configure the sequence, order, and timing for each mission-critical system, and to be able to press just one button to test or start site-wide failover processes.
---