Arcserve OneXafe Solo

Plug-and-Protect Backup Appliance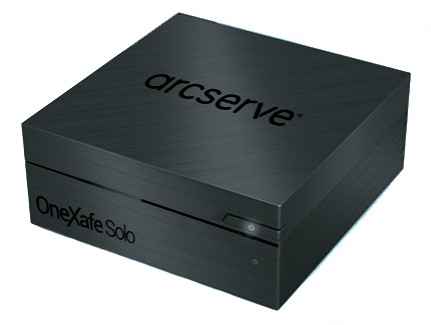 Arcserve Products
StorageCraft OneXafe Solo
StorageCraft OneXafe Solo 300
#OneXafe-Solo
Get a Quote!
Click here to jump to more pricing!
Overview: OneXafe Solo:
Direct-to-Cloud Data Protection
For small businesses with simpler environments, StorageCraft OneXafe Solo features a plug-and-play, compact appliance that's extremely easy to deploy and manage all within a few simple steps: plug it in, connect to internet, and start protecting in minutes. By streaming data directly to the cloud, OneXafe Solo significantly reduces infrastructure requirements onsite while disaster-proofing the data at the same time. OneXafe Solo leverages the same powerful, enterprise-class data protection technology that drives StorageCraft ShadowXafe. OneXafe Solo delivers powerful recovery, simple management, and total business continuity.
---
Ultimate Flexibility for Any Environment
OneXafe Solo provides ultimate flexibility with a range of deployment options independent of the IT environment. It can be deployed in environments with limited infrastructure, whether the limitations stem from lack of local storage or virtual environments, ensuring secure data protection for any environment. With its set-and-forget capability, OneXafe Solo enables efficient management of data protection without requiring dedicated resources, whether staffing or capital.
---
Innovative Cloud-based, SLA-based Policy Management
OneXafe Solo SLA-based policy administration makes it easy to manage data protection, reducing the overhead costs and complexity. OneXafe Solo uses StorageCraft OneSystem for cloud-based management from anywhere, anytime through any web browser. This eliminates the need for onsite dedicated servers and time-consuming software upgrades to manage data protection. Policy creation is intuitive with all the ingredients that make up the SLA― backup frequency, retention policy, target location, replication for cloud disaster recovery.
---
Scales as You Grow
OneXafe Solo allows you to accommodate additional data protection policies and manage at scale with just a few clicks. With the same set of tools, you can address multiple use cases, physical or virtual server protection, on-premise or direct to cloud backup, from one machine to 20 machines, all with always-on offsite disaster recovery (DR). In addition to cloud backup, OneXafe Solo provides the ability to back up to external storage, such as to another NAS device, making it easy to scale. It also supports replication to public storage (AWS, Azure, Wasabi) for off-site copies.

---
Cost-effective Enterprise-class Features
OneXafe Solo provides powerful, enterprise-class data protection at SMB pricing in a compact device form. Its data protection is both hostbased and agent-based, complete with physical and virtual system recovery. OneXafe Solo provides instant boot recovery, with patented VirtualBoot technology, for virtual machines within milliseconds, recreates entire sites in the cloud, and backs up systems efficiently. It delivers SLA-based protection, embedded analytics, best in industry RTO, and innovative recoverability tract technology.
---
Cloud-based DRaaS for Total Business Continuity
OneXafe Solo is fully integrated with StorageCraft Cloud Services (DRaaS) built on top of Google Cloud Platform (GCP) to provide total business continuity with an orchestrated one-click failover in the cloud, easily recovering the entire infrastructure. This results in reduced downtime costs and improved productivity, while offering the highest service level agreements (SLAs).
---
Pricing Notes:
Pricing and product availability subject to change without notice.
Arcserve Products
StorageCraft OneXafe Solo
StorageCraft OneXafe Solo 300
#OneXafe-Solo
Get a Quote!