StorageCraft ShadowProtect Virtual: Desktop

Back Up and Quickly Recover Virtual Environments, and Keep Business Running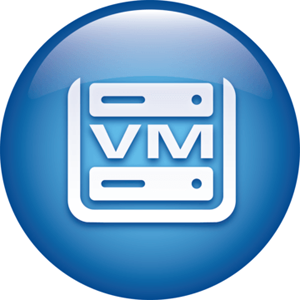 Sorry, this product is no longer available, please contact us for a replacement.
Click here to jump to more pricing!
Overview:
Backup Fast and Recover Faster with StorageCraft ShadowProtect Virtual
Virtualization is an important tool for IT professionals to maximize hardware resources and improve disaster recovery. With unpredictable storage architectures, IT professionals need a backup and disaster recovery solution that can adapt to changing computing environments.
StorageCraft ShadowProtect Virtual provides fast and reliable backup, disaster recovery, data protection, and system migration to get virtual machines (VMs) online quickly. It allows you to backup everything in your virtual environment and recover it anywhere: to another type of hypervisor, to physical environments, or to the cloud.
ShadowProtect Virtual protects your entire computing environment—including the operating system, applications, services, and data.
Fast, Flexible, and Reliable Recovery
The legendary reliability of ShadowProtect includes bare metal recovery to the same system or to another VM, even to a different hypervisor. Its Hardware Independent Restore technology provides portability to new hardware and is agnostic to the underlying physical hardware or virtualization technologies. This provides the flexibility you need within changing IT infrastructures, ensuring business continuity in hybrid environments.
In addition, ShadowProtect includes StorageCraft VirtualBoot technology. VirtualBoot dramatically improves your ability to recover quickly by allowing you to access systems as a VM in just a few minutes.
Priced per VM, ShadowProtect Virtual can be purchased in multi-packs and deployed on multiple hosts.
ShadowProtect Virtual supports the following hypervisors:
VMware
Microsoft Hyper-V
Citrix XenServer
Oracle VirtualBox
RedHat KVM/RHEV
ShadowProtect Virtual also includes revolutionary new technology, StorageCraft ImageReady, which automatically mounts ShadowProtect backup images as NTFS shares. Once mounted, ImageReady can perform script-based operations on the image to verify data and application integrity. This might include running CHKDSK, or custom scripts that test the operation of business-critical applications such as Exchange, SharePoint, and SQL environments.
ShadowProtect Virtual provides the following benefits:
Support for VMware, Microsoft Hyper-V, Citrix Xen- Server, Oracle VirtualBox, and RedHat KVM/RHEV.
Windows Server 2012 support.
Rapid recovery from bare metal, to dissimilar hardware or to and from virtual environments.
ImageReady technology to automatically mount backup image files.
Granular recovery of individual files and folders in moments.
Ability to boot any ShadowProtect image as a VM with VirtualBoot.
Automatic backup of SQL, Exchange, and other critical applications.
Hardware Independent Restore technology.
Simplified migration to new Windows servers.
Scheduler for automatic full and incremental backups
StorageCraft ShadowProtect
As IT environments change, what remains consistent for organizations large and small is the need to protect themselves from unplanned downtime—both everyday disruptions and major disasters. With demands for 24/7 availability and data growth skyrocketing, an organization's ability to quickly recover its mission-critical systems and resume normal business operations is crucial.
Organizations need a backup and disaster recovery solution that protects both physical and virtual Windows systems and provides full control over the ability to quickly get the business up and running again after a disruption or disaster. Since you never know what resources will be available to you in a disaster, the flexibility to be able to recover anywhere, anytime, every single time is unquestionably vital.
Since 2003, businesses have relied on the award-winning StorageCraft ShadowProtect backup and disaster recovery solution to protect, recover, and migrate their physical and virtual Windows systems. As the foundation of the StorageCraft Recovery Solution, ShadowProtect gives you peace of mind that your Windows systems are fully protected and can be rapidly recovered, no matter the disruption or disaster you face. How it works:
Install ShadowProtect on any server or workstation you wish to protect. ShadowProtect quickly and efficiently captures your entire system including the operating system (OS), applications, settings, services, and your data.
Take regularly scheduled backups as often as every 15 minutes. Schedule full and incremental backups to best fit your needs.
Choose where to store your backup files. Write backup images to any internal, removable, or network storage locations.
Easily monitor and manage your backup jobs in the ShadowProtect user interface or through the web-based management console StorageCraft ShadowControl.
Rest assured you have multiple options to recover onsite and offsite in minutes. Recover entire systems or specific files and folders—all from the same backup image.
Technical Information
StorageCraft ShadowProtect quickly and efficiently creates sector-level backup images of physical and virtual Windows systems. A sector-level backup image is a point-in-time representation of the system and therefore includes not just data but also the operating system, applications, services, and configuration settings.
We leverage Microsoft Volume Shadow Copy Service (VSS) to ensure solid backups, and our proprietary snapshot driver StorageCraft Volume Snapshot Manager (VSM) makes sure those backups happen fast.
Because backup images contain everything on a given workstation, server, or virtual machine (VM), when you need to recover its system, you can do so in minutes rather than hours or days.
StorageCraft ShadowProtect lets you:
Rapidly access individual data files and folders
Restore to the same or different hardware or a virtual environment in a matter of minutes
Boot a backup image as a VM for a quick, temporary fix
Features & Benefits:

Backup
Capture everything—systems, applications, configuration settings, services, data—so you don't risk losing irreplaceable data, custom applications, or your operating system.

Scheduling
Run backups regularly, even while people work (they won't even notice), and you'll never risk losing more than a few minutes of data.

Remote Management
Manage the ShadowProtect agent on remote machines without leaving your desk.

Testing
Verify backup images to ensure they're in a known good state for fast and reliable recovery.

Recovery
Recover a file or a folder or restore a whole system fast, to the same or different hardware, and avoid downtime and its costs.

Migration
Move a system to a new machine without losing uptime, and do so regardless of your hardware choice.
Screenshots:
Licensing:
StorageCraft Technology Corporation uses a per-VM licensing model rather than a per-hypervisor licensing model. Per-VM licensing gives you:
Consistent backups of each VM while they each are running (capturing the state of multiple working VMs on a hypervisor is complex and reduces reliability of all backups)
Simplified restores since only an affected VM needs to be shut down for recovery (contrast that with having to do a complete restore of the hypervisor during which you must shut down every VM just to recover the single affected one)
Flexible migration options—including to a new, dedicated system (migrating just one VM from a hypervisor-based backup is challenging at best)
The ShadowProtect Virtual licensing model allows you to purchase a single ShadowProtect Virtual license or licenses in bundles of 3, 6, 12, 24, or 50.
Please note: A ShadowProtect Virtual license allows you to migrate or restore a VM to a physical environment. However, once restored to a physical system, the virtual license ends. Use a new standard ShadowProtect license to continue to make backups in a physical environment.
Technical Specifications:
Requirements and Supported Environments
ShadowProtect Virtual supports Windows guests running in these hypervisor platforms:
Citrix XenServer
Linux KVM
Microsoft Hyper-V
Microsoft Virtual PC
Microsoft Virtual Server
Oracle VirtualBox
Red Hat Enterprise Virtualization (RHEV)
VMware ESX/ESXi (including the free version of ESXi)
VMware Workstation
Version Support
Supported Operating Systems
ShadowProtect License Types
 
Server
Small Business
Desktop
Virtual
Windows Server 2016 x64
-
-
Windows Server 2012 R2 x64
-
-
Windows Server 2012 x64
-
-
Windows Server 2008 R2 x64
-
-
Windows Server 2008 x86/x64
(Service Pack 2 or higher)
-
-
Windows Server 2003 R2 x86/x64
-
-
Windows Server 2003 x86/x64
(Service Pack 2 or higher)
-
-
Windows 2000 x86 Server, Advanced Server (Service Pack 4 or higher)
Limited
-
-
Windows Storage Server 2012 R2 x64 Essentials
-
-
Windows Server 2012 R2 x64 Essentials, Foundation
-
-
Windows Server 2012 x64 Essentials, Foundation
-
-
Windows Small Business Server 2011 x64
-
-
Windows Storage Server 2008 R2 x64 Essentials
-
-
Windows Server 2008 R2 x64 Foundation
Limited
-
Windows Server 2008 x86/x64 Foundation
(Service Pack 2 or higher)
Limited
-
Windows Small Business Server 2008 x86/x64
-
-
Windows Small Business Server 2003 R2 x86/x64
-
-
Windows Small Business Server 2003 x86/x64
-
-
Windows 10 x86/x64
-
-
Windows 8.1 x86/x64
-
-
Windows 8 x86/x64
-
-
Windows 7 x86/x64
-
-
Windows Vista x86/x64
(Service Pack 2 or higher)
-
-
Windows XP x86/x64
(Service Pack 3 or higher)
-
-
Windows 2000 x86 Professional
(Service Pack 4 or higher)
-
-
Limited
Limited
Technical Notes
Limited Support: StorageCraft ShadowProtect supports backup of Windows 2000 environments. However, lack of hardware support and suitable device drivers may make recovery difficult. If you use Windows 2000, make sure you have appropriate hardware and drivers you can use as your recovery target should a disaster happen. (Note: StorageCraft VirtualBoot technology does not support Windows 2000; additionally, Windows 2000 doesn't have a VSS framework or support, so VSS backups are not available in Windows 2000.) For specific Windows Server 2008 Foundation and R2 Foundation licensing information, please contact your sales representative.
Virtual licenses: ShadowProtect should not be installed directly into the host of a Type 1 hypervisor. The recommended configuration is to back up the guest operating system within each virtual machine.
System admin tools: ShadowProtect IT Edition and ShadowProtect IT Edition PRO support all the same operating systems that the above ShadowProtect license types support.