Arcserve Email Archiving

Protect your vital email records and simplify compliance—on-premises, or in a private or public cloud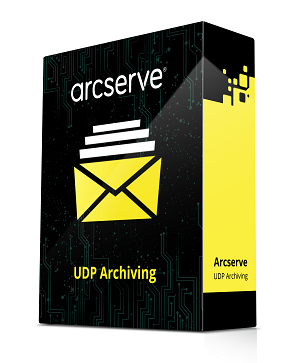 ---
Arcserve Products
Arcserve UDP Archiving 6.0 (OLP)
Arcserve UDP Archiving 6.0 (OLP) - 25 Mailboxes Pack - 1 Year Subscription License
#NARSR600FLW025S12C
Our Price: $537.00
Arcserve UDP Archiving 6.0 (OLP) - 50 Mailboxes Pack - 1 Year Subscription License
#NARSR600FLW050S12C
Our Price: $716.00
Arcserve UDP Archiving 6.0 (OLP) - 100 Mailboxes Pack - 1 Year Subscription License
#NARSR600FLW100S12C
Our Price: $1,387.00
Arcserve UDP Archiving 6.0 (GLP)
Arcserve UDP Archiving 6.0 (GLP) - 25 Mailboxes Pack - 1 Year Subscription License
#NARSR600FLW025S12G
Our Price: $470.00
Arcserve UDP Archiving 6.0 (GLP) - 50 Mailboxes Pack - 1 Year Subscription License
#NARSR600FLW050S12G
Our Price: $626.00
Arcserve UDP Archiving 6.0 (GLP) - 100 Mailboxes Pack - 1 Year Subscription License
#NARSR600FLW100S12G
Our Price: $1,214.00
Click here to see pricing bigger options!
WAVE GOODBYE TO THE COMPLEXITY OF EMAIL ARCHIVING SOLUTIONS
Often serving as an organization's primary written communication channel, 60 billion new emails are created every day and store over half of all confidential business information. Not only must IT staffs protect these records, they must also address rising storage costs and deliver against legal, regulatory, and corporate governance requirements.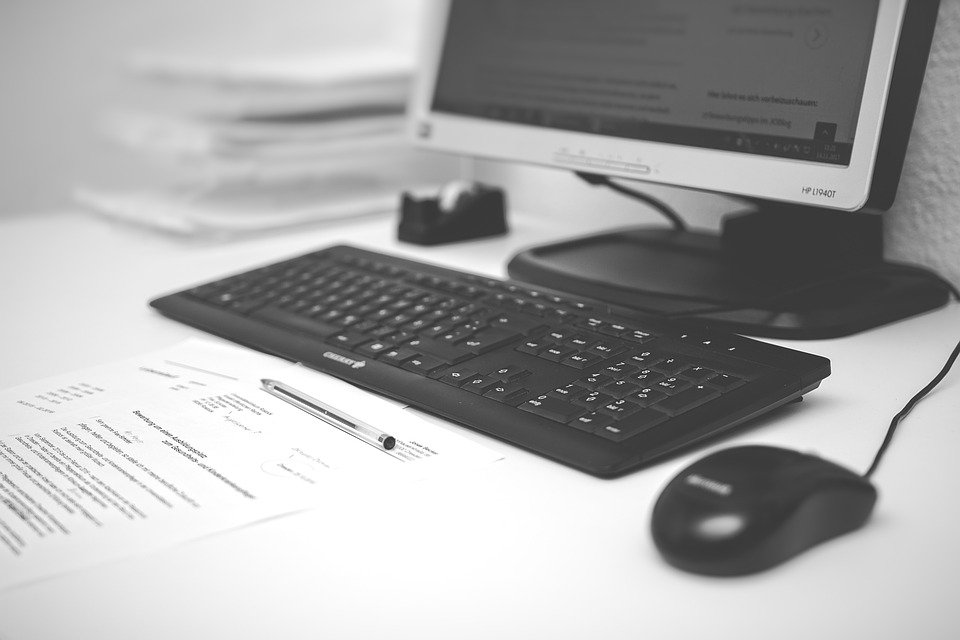 ---
EASILY COMPLY WITH LEGAL AND REGULATORY COMPLIANCE
Arcserve Email Archiving makes it easy to comply with stringent legal and regulatory requirements, delivering robust capabilities on- and off-site, as well as across multiple tenants and languages.
Automatically capture and retain emails as encrypted, unalterable corporate records
Simplify lifecycle management by automatically removing email records
Easily implement legal holds and ensure sensitive emails aren't destroyed
---
How It Works
Designed for single or multi-tenant architectures, Arcserve Email Archiving enables modern email archiving management for multiple divisions, locations, or end users with on-premises or cloud-based platforms such as Microsoft Exchange, IBM Domino, Microsoft Office 365, and Google Gmail. It does not install any software on the email server but instead, runs as a virtual appliance offered as VMware OVF, Microsoft Hyper-V, and Amazon Web Services AMI.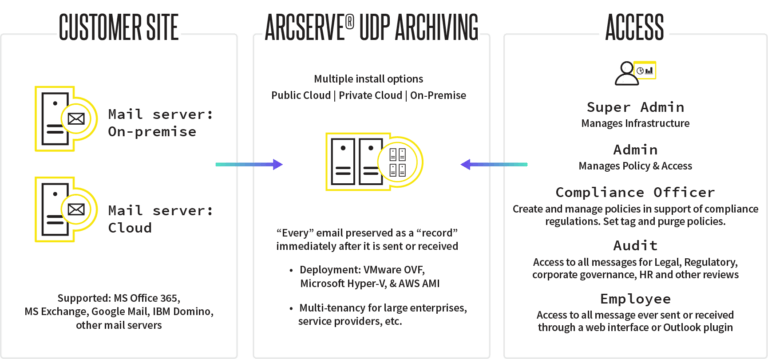 ---
The Arcserve Advantage
CREATED WITH THE UTMOST IN USABILITY AND DESIGN
Like all our solutions, Arcserve Email Archiving was developed to deliver a consumer-grade user experience. That's why you can manage all robust capabilities with a few quick clicks on a single management interface.
BACKED BY DEEPLY KNOWLEDGEABLE PRODUCT SUPPORT
Our teams are among the most experienced in the data protection industry – expertise we pour into supporting our customers and partners.
PROFITABLE FOR CHANNEL PARTNERS AND CLOUD SERVICE PROVIDERS
Channel partners can profitably adopt and manage Arcserve Email Archiving to support customers with robust capabilities on- and off-site, as well as across multiple tenants and languages.
---