Arcserve ShadowXafe

Powerful Next-Generation Data Protection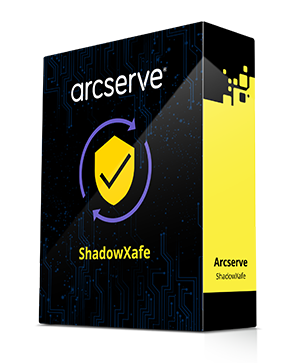 Arcserve Products
StorageCraft ShadowXafe Physical Server
StorageCraft ShadowXafe Physical Server, Perpetual, 1 Year Maintenance
#SX-PS-P-M12
Get a Quote!
StorageCraft ShadowXafe Physical Server, Perpetual, 3 Years Maintenance
#SX-PS-P-M36
Get a Quote!
Click here to jump to more pricing!
Overview:
ShadowXafe is the next-generation data protection solution that brings comprehensive, SLA-driven management for the complete data protection lifecycle. ShadowXafe delivers dependable data recovery with an optimized, easy-to-use management workflow. Its powerful data protection is both host-based and agent-based, applicable for a wide range of workloads, physical and virtual, on premises and in the cloud. ShadowXafe ensures reliable data protection, reducing application downtime and improving productivity. In the event of system-wide failure, data corruption or natural disaster, ShadowXafe's patented VirtualBoot technology allows organizations to perform a virtual machine recovery in milliseconds and restore their entire infrastructure in minutes. ShadowXafe provides total business continuity when integrated with Arcserve Cloud Services, our disaster recovery as a service (DRaaS) as a service platform.
One Solution for Your Data Protection Needs
ShadowXafe delivers powerful recovery and workflow-optimized management simplicity. ShadowXafe is easy to deploy and manage, and it ensures secure data protection, less application downtime, and improved productivity.
Data Recovery Made Simple
Host-based and agent-based next-generation data protection
Dependable complete physical and virtual system backup and disaster recovery
Boot backup images as virtual machines (VMs) in milliseconds
Recover to dissimilar hardware or virtual environments
Data Backup and Recovery Management at Scale
Context-sensitive, policy-based administration
Unified data protection lifecycle management
SLA-driven dashboard and analytical reports
Seamless VMware/Hyper-V integration
Optimized for ease of use
Microservices-based architecture for enterprise scalability
Back up directly to the cloud
Cloud-based management from anywhere at any time with Arcserve OneSystem
Total Business Continuity
Tight integration with StorageCraft Cloud Services for true one-click DRaaS
Policy setup provides DRaaS as an option for 100 percent business continuity
Complete, orchestrated one-click failover
Highest SLAs with one throat to choke for on-prem as well as cloud backup and recovery
---
ShadowXafe's Architecture
Designed for scalability, ShadowXafe's microservices-based architecture can rapidly deploy service nodes for an unlimited number of sites. It includes a collection of interconnected, scalable, and easily manageable microservices that deliver robust data protection and storage access. There are three main components: Data Protection Services, Agents, and OneSystem®. The Data Protection Services deliver storage access and data protection procedures including backup, restore, replication, and storage. Agents are adapters for protecting physical servers and virtual machines (VMs) to deliver higher SLAs. is the cloud-based management service (which can also be on-premises) that orchestrates and manages the activities within Data Protection Services. It provides real-time monitoring, reporting, and visibility from any location.
---
Instant Restore with VirtualBoot
The patented Arcserve VirtualBoot technology instantly restores data, directly from the backup images, and gives full access to system resources and applications in seconds. There is no need for VMware Storage vMotion as data can be accessed directly on the primary storage. VirtualBoot is built on VAIO filter and performs advanced intelligent I/O read-ahead to deliver the data before it is needed. Although rapid failover in the event of a disaster is the most critical function of VirtualBoot, it provides various other valuable functions including:
Confirm and validate backup images proactively
Act as a temporary solution to minimize downtime during server migration
Test software packages Provide application/kernel updates before production deployment
Access applications from a specific point in time to export data from applications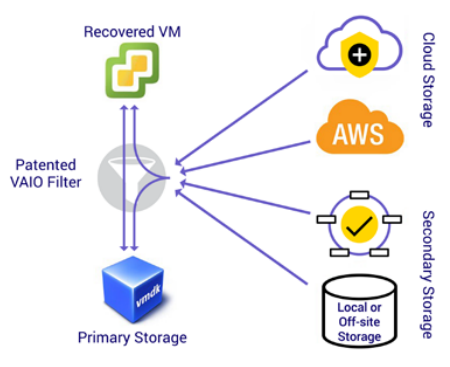 ---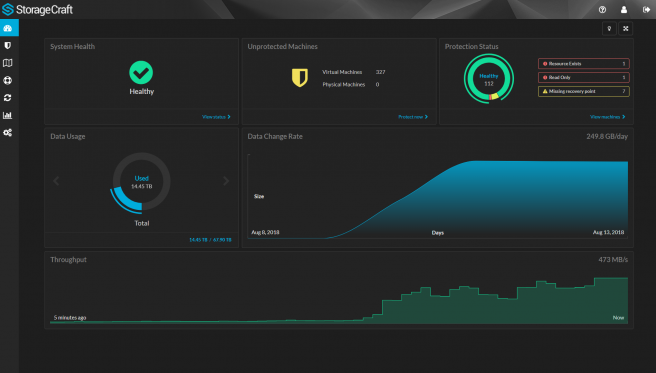 Instant Restore with VirtualBoot
The data protection workflow is managed through OneSystem, a cloud-based unified management platform featuring a true SLAbased protection framework. The dashboard gives an overview of the health of the system. Policy creation is intuitive with all the ingredients that make up the SLA―backup frequency, retention policy, target location, replication for offsite disaster recovery― in a single location. Once created, the SLA protection policy can be applied to any combination of virtual and physical machines.
---
Pricing Notes:
Pricing and product availability subject to change without notice.