Arcserve ShadowProtect

The Best in Reliable Data Protection and Disaster Recovery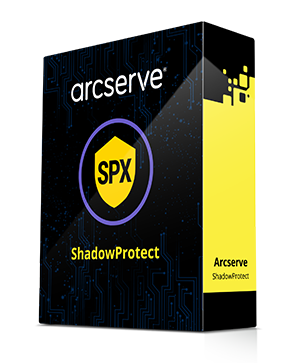 ---
Overview:
No two organizations have identical IT environments or business needs, but what is consistent across all organizations large and small is the need to protect themselves from unplanned downtime—both everyday disruptions and major disasters. With demands for 24/7 availability and data growth skyrocketing, an organization's ability to quickly recover its missioncritical systems and resume normal business operations is crucial.
One Solution for Your Data Protection Needs
Like disasters, IT environments are anything but standard. That's why businesses need a single cross-platform solution that protects a mixed, hybrid environment. ShadowProtect backup and disaster recovery software ensures on-prem business systems and data are fully protected and always available.
Fast Recovery
With ShadowProtect, meet or beat your recovery time and recovery point objectives (RTOs and RPOs). Recover files and folders in minutes. Restore failed servers. Use patented VirtualBoot technology to instantly boot a backup image into a virtual machine.
Data Backup and Recovery Management at Scale
ShadowProtect image-based backups arm you with multiple ways to recover. Grab a missing file, restore an entire data volume, or restore a failed server's system to a new physical or virtual machine with no headaches (P2P, P2V, V2P, V2V). You can rely on ShadowProtect because it provides automated verification of backup images to ensure they'll work when disaster strikes.
Flexible, Reliable Recovery
Whether you're responsible for a dozen backups or a thousand, ShadowProtect provides a scalable, stress-free solution. From mass deployment and configuration to automated verification and alerting, ShadowProtect will continue to protect your systems with minimal intervention required.
Disaster Recovery Cloud
The way to ensure you can recover systems during a site-wide or regional disaster is to have safe copies of backups in other locations that are easy to access. To protect on-premises systems and data, we offer a cloud that's purpose-built for disaster recovery. Choose the level of protection needed, ranging from data recovery to instant full network recovery, and only you have access to the stored backups.
---
The Need
Organizations need complete confidence that their entire IT environment—whether it's Windows or Linux, virtual or physical—is fully protected and can be reliably recovered in minutes. Since you never know what resources will be available to you in a disaster, the flexibility to be able to recover anywhere, anytime, every single time is unquestionably vital.
---
The Solution
Fast, flexible recovery starts with a solid backup. Arcserve® ShadowProtect® SPX is the cornerstone of the Arcserve Recovery Solution™, providing comprehensive backup protection, reliable recovery, and system migration in a single, cross-platform solution that supports Windows and Linux systems on virtual and physical machines. How it works:
Install ShadowProtect SPX on any server, desktop or laptop you wish to protect. SPX quickly and efficiently captures your entire system including the operating system (OS), applications, settings, services, and your data.
Take regularly scheduled backups as often as every 15 minutes. Create custom full and incremental backup schedules to best fit your needs.
Choose where to store your backup files. Write backup images to any internal, removable, or network storage locations.
Easily monitor and manage your Windows and Linux backup jobs in the same SPX user interface or through the web-based management console Arcserve ShadowControl.
Rest assured you have multiple options to recover onsite and offsite in minutes. Recover entire systems or specific files and folders—all from the same backup image.
---