Arcserve N1600 Appliance

Hyperconverged data protection powered by Nutanix and secured by Sophos

Arcserve Products
Arcserve N Series Appliances
Arcserve N1600 Appliance
#N1600
Get a Quote!
Click here to see pricing bigger options!
Overview:
The Arcserve N Series Appliances deliver a Hyper-Available Recovery platform for Enterprises requiring protection for critical workloads. Simplify your IT environment and secure your data with an all-in-one backup and recovery appliance combining ransomware prevention and hyperscale design. Protect any type and number of workloads, while reducing RTOs and RPOs to just minutes or seconds with Arcserve's Virtual Standby and Instant VM.
The industry's first turnkey appliance that converges leaders in the data protection, hyperconvergence and cybersecurity space to present a unified offering allowing enterprise businesses to comprehensively protect their priceless digital assets.
Arcserve's hyperconverged data protection appliances run, award-winning, Arcserve Unified Data Protection (UDP), powered by Nutanix and secured by Sophos Intercept X.
---
Appliances At-A-Glance
Hyper-Available Recovery Platform from Arcserve powered by Nutanix enabling 24x7 availability for backups
Incremental and linear scale-out allowing customers to start small and grow with need
A minimum of 4-Nodes, 48 drives, up to 540TB effective capacity and 1.5TB RAM per cluster
Hyper-redundant architecture presenting a resilient, high-performing environment
Sophos Intercept X Advanced for Server to defend backup system from ransomware and hacker attacks
On-site support in as little as 4 hours for peace of mind
---
Integrated Scale-Out Data Protection, Orchestrated Recovery, and Cybersecurity
Enterprise IT professionals are being challenged to manage exponential data growth and maintain high performance of critical systems while protecting vital information from ever increasing ransomware threats. They need a better approach to storing, managing, and protecting data that reduces complexity and TCO.
It's time to think differently.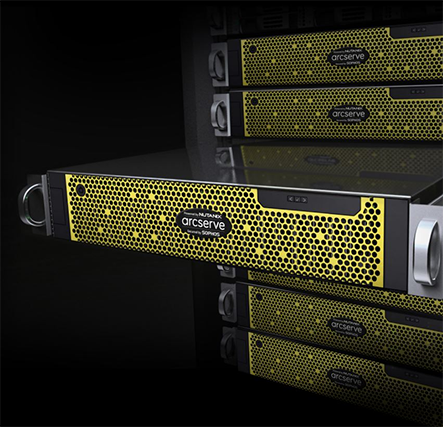 ---
Get Scale-Out Design and Ransomware Defense in a Single System
Arcserve N Series Appliances, a hyperconverged data protection solution Powered by Nutanix and Secured by Sophos, securely protect any type and number of workloads, safeguarding your data from disasters, accidents, and cyberattacks.
The appliances combine the orchestrated recovery of Arcserve UDP with the flexible scale-out design of Nutanix and the ransomware defense of Sophos Intercept X Advanced cybersecurity. For an extra layer of protection, add Arcserve OneXafe immutable storage or AWS S3 object lock storage (available separately).
Now You Can:
Eliminate discrete data protection and security strategies while putting data growth worries to rest with scale-out capacity to seamless adjust to changing needs


Rely on proven Arcserve UDP software with instant VM and BMR, local and remote virtual standby, application-consistent backup and granular restore, optional high availability, and more


Back up multiple legacy and modern workloads, including agentless host-based protection for Nutanix AHV, vSphere, and Hyper-V; prevent data loss with deduplicated backup for AHV, Nutanix Files, and quick disaster recovery with automatic failover
Rely on proven Arcserve UDP software with instant VM and BMR, local and remote virtual standby, application-consistent backup and granular restore, optional high availability, and more


Have confidence in your data restoration capabilities with automated recovery testing powered by Assured Recovery with RPO, RTO, and SLA validation


Gain peace of mind with on-site support in as little as four hours, and highly redundant hardware including hot-swap power supplies
---
The Arcserve Advantage
Backup Appliances Created With The Utmost In Usability And Design
Like all our solutions, Arcserve Appliances were developed to deliver a consumer-grade user experience. That's why you can manage its robust capabilities with a few quick clicks on a single interface from anywhere in the world.
Backed By Deeply Knowledgeable Product Support
Arcserve teams are among the most experienced in the data protection industry – expertise we pour into supporting our customers and partners.
Profitable For Channel Partners & Cloud Service Providers
Channel partners and managed service providers can profitably adopt and manage Arcserve Appliances to support customers who have limited resources but require secure backup and disaster recovery (DR) for vital business systems.
---
Arcserve Products
Arcserve N Series Appliances
Arcserve N1600 Appliance
#N1600
Get a Quote!