Arcserve Server Migration

Get out of the office faster when complex data migrations become fantastically simple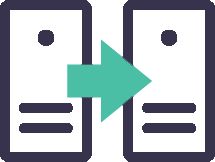 The headache of complicated server and data migration
Moving data between different types of servers running disparate management systems can be an unholy nightmare.
A time-consuming, headache-inducing nightmare that eats up your nights and weekends.


Execute complex migrations successfully with easy-to-use server and data migration software
You have better things to do on a Friday night, so we made sure server and data migration with Arcserve Unified Data Protection would be completely painless.
With both high availability and hypervisor support capabilities, you have a range of options to successfully execute your data migration, regardless of whether you're conducting it in-house or as a service provider.
Arcserve UDP supports:
Physical server to physical server migration (P2P)
Physical server to virtual server migration (P2V)
Virtual server to virtual server migration (V2V), including cross-hypervisor migrations
What's more, our server and data migration software promises some big benefits:
Centrally manage and easily test server migration
Speed up the migration process at data centers and remote offices
Avoid disruption to the work environment
Maximize IT resources and productivity
Reclaim your weekend
Whether you're migrating data and servers to resolve data storage issues, upgrade equipment or software, support mergers and acquisitions, or implement a server virtualization strategy, Arcserve makes it simple.